2020 Land Rover Defender Coming to Colorado!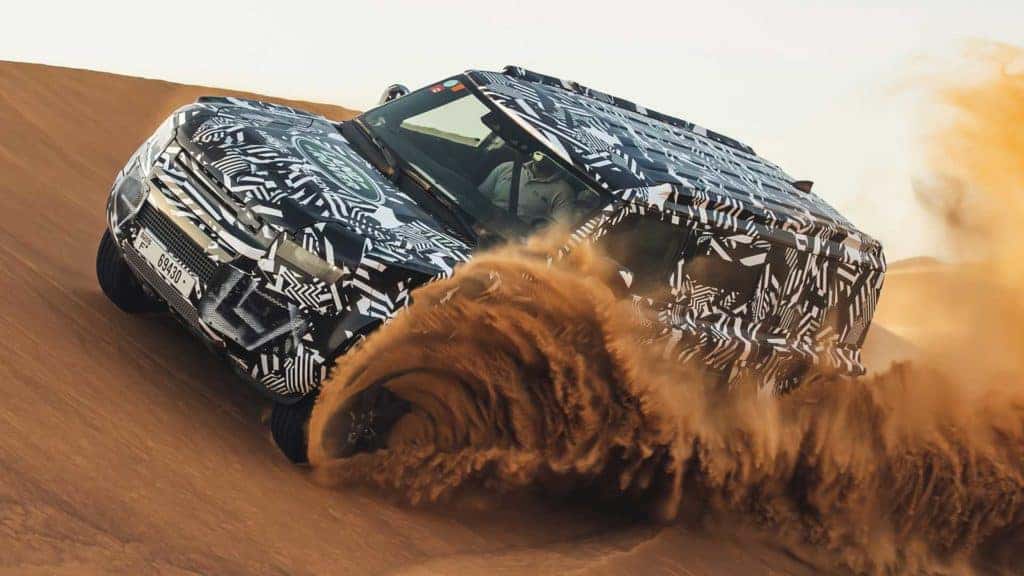 The Land Rover Defender is making its return to the American SUV market with the new 2020 model. The Defender brings with it incredible off-road driving capability with rugged dependability. While Land Rover has always been a leader in functionality and handling superiority, the all-new Defender will bring a whole new level of excellence.
Land Rover Defender Performance

The 2020 Land Rover Defender is speculated to feature a turbocharged 2.0L four-cylinder engine as the standard engine in the base model. Power and efficiency details are currently unknown with this engine; however an eight-speed automatic transmission will likely contribute to a smooth application of power regardless of the engine under the hood. The Defender is expected to come with four-wheel drive and advanced traction control to help achieve the top-notch handling promised by Land Rover.
Defender Comfort & Entertainment Technology

Little information has been released about the technology and comfort that the 2020 Land Rover Defender will be equipped with standard. Given the modern touches the latest Land Rover vehicles have been receiving, high-tech media options and comfort are sure to be included for the best ride possible.
Safety Technology
While the 2020 Land Rover Defender will be focused on unparalleled off-road performance, there will be a variety of safety features helpful for all driving situations. Handling the Defender will be made much easier with the potential inclusion of an independent rear suspension. Terrain management systems will also improve the handling capabilities for the driver, making the Defender safer to maneuver as a result.
Coming to Land Rover Colorado Springs
Land Rover Colorado Springs in the place to get your new 2020 Land Rover Defender when it becomes available at the end of 2019. This incredible SUV will be more than capable of performing in all types of weather that Colorado can dish out. We are the place to go in Colorado to find a new, certified pre-owned, or used Land Rover for sale or for lease. Land Rover Colorado Springs is located in the Motor City area at 565 Motor City Drive.