Be Ready For Winter Weather Before It Arrives in Colorado Springs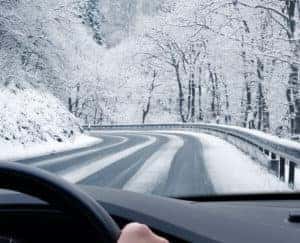 Land Rover and Range Rover SUV models are made to take on the challenges of a variety of weather conditions.  They have the design and features needed to deal with challenging road conditions due to changing weather and rugged terrain.  Even if you drive a capable vehicle, you need to ensure your vehicle is ready for winter driving.  Now is the time to get your vehicle prepared for the soon-to-arrive cold weather, so you can enjoy a relaxed Colorado winter drive.
Your vehicle's handling and traction depends strongly on quality tires that have a sufficient amount of tread.  You can easily test the tread depth of your vehicle's tires by using a penny.  Just put the penny into tire tread, head side down and facing you.  If you can see the top of Lincoln's head, your tread is too worn to drive safely.  Trust the experts at the Land Rover Colorado Springs Tire Source to let you find the best tires for your vehicle and your driving situation.
In addition to checking your tire tread, check your tires for proper inflation too.  This will help with your traction and handling, as well as providing even wear for your vehicle's tires.  Check your battery for any evidence of leaking, corroding, or fraying wires.  If your vehicle's battery has not been replaced in a long time, you might want to opt for a new battery that is optimally ready for the very cold weather.  This is also a great time to check the condition of your windshield wiper blades to ensure they are ready to handle winter's wet conditions.
Even with a quality vehicle in excellent condition, you could potentially find yourself roadside during difficult weather.  It is essential to have a well-stocked Emergency Kit to deal with issues that might arise.  This should be stocked with essentials such as a first aid kit, small tool kit, flashlight, jumper cables, snacks, and bottled water.  For winter, add in a blanket, warm gloves, hand warmers, and a small shovel for snow removal.
If you would like assistance with a vehicle inspection, schedule your service appointment at Land Rover Colorado Springs.  Our expert technicians are eager to inspect your vehicle and ensure you are ready for the upcoming cold weather.  If you would like to trade up to a luxury performance AWD SUV, check out the amazing selection available at Land Rover Colorado Springs, your Southern Colorado Land Rover experts.