Build an Emergency Safety Kit to Carry in Your Vehicle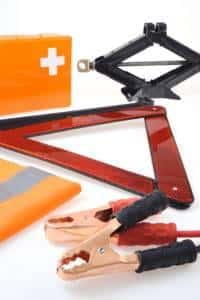 Building Your Emergency Safety Kit
You can easily put together your own emergency kit with items that work best for you.  Make sure your kit includes items such as:
Safety Items:  stocked First Aid Kit, roadside flares, seatbelt cutter / glass breaker tool, inexpensive pay-as-you-go cell phone, small fire extinguisher, and flashlight
Tools and Repair Essentials:  jumper cables, extra fuses for your vehicle lights, tire inflator, and a small tool kit filled with essentials including duct tape
Comfort Items:  a warm blanket, bottled water, variety of non-perishable snacks
Winter Necessities (add these to your kit in the Autumn):  Sand or an ice melting product and ice scraper
Hopefully you will never need these items but you will appreciate having them if the need arises.  There is plenty of cargo space in your Land Rover to carry your Emergency Safety Kit plus all your usual cargo!  Contact the Parts Department at Land Rover Colorado Springs if you need to order parts for your kit.