Love It or Return It Guarantee

The team at Land Rover Colorado Springs wants to make sure you're completely satisfied with your vehicle purchase. That's why we offer the "Love It or Return It Guarantee."
What exactly does this mean? How can you take advantage of this guarantee at our dealership near Colorado Springs, Cimarron Hills, Fort Carson, and Canon City, Colorado?
Continue reading to learn about this service. Don't hesitate to contact us if you have any questions.
What Is the Love It or Return It Guarantee?
When you visit our dealership, we're sure you'll be test-driving various models. However, it's one thing to drive a car around a dealership—it's another to do it in your neighborhood.
That's why, with the "Love It or Return It Guarantee," we offer 24-hour test drives so that you can bring the Land Rover home! You have up to seven days or 700 miles to determine if the vehicle will align with your lifestyle.
If it doesn't, bring it back to the dealership. From there, you can exchange the model for a different one. Keep test-driving automobiles until you find the one that's ideal for you!
Finding the Right Land Rover for Your Needs
Before you can utilize this exchange program, you'll need to pick out a specific Land Rover. Luckily, we have plenty for you to select from.
You can either head straight to our dealership or view our inventory online. If choosing to browse on our website beforehand, you'll find every new or pre-owned vehicle that we offer.
This includes models, like:
Land Rover Discovery Sport
Range Rover
Range Rover Evoque
Feel free to browse through each listing one by one or use the search filters to help narrow down your options. If you want a white SUV with heated front seats, you will probably find it within our inventory.
Since we have many different models and trim levels available, this is where you'll want to utilize that "Love It or Return It Guarantee." Take a Land Rover home and test it out in your area. If it doesn't work for you, exchange it until you're satisfied with your selection.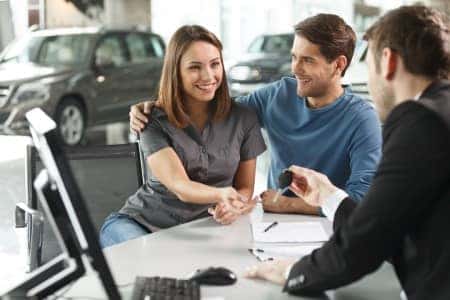 You've Found Your Dream Car—What's Next?
After you've tested the performance and the features of various models and settled on your next ride, it's time to go through the financing process. You can do this right inside our finance center, where our expert team is there to help.
We work with drivers who have varying lifestyles. So, whether you choose to lease or to buy your Land Rover, we know what steps to take to make it happen. This includes reaching out to local banks and lenders so that you get a loan with terms you're happy with.
If you're leasing your vehicle, we'll go through every part of your agreement to make sure you're satisfied with everything.
From there, you'll simply need to fill out some paperwork. We'll then hand over the keys to your new ride and you'll get to love it for many years and many miles!
Test Drive a Land Rover Today
If you're still deciding on a new set of wheels, our "Love It or Return It Guarantee" may be a service that you'd want to look into.
For any questions you need answered or to get started, contact Land Rover Colorado Springs. We look forward to helping your find your ideal automobile near Colorado Springs, Cimarron Hills, Fort Carson, or Canon City, CO!
---